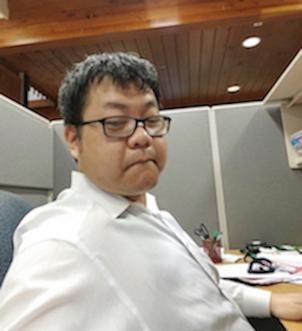 Wen Lo is an accountant for Perkins Solutions, a division of Perkins School for the Blind that provides accessibility strategies and solutions for people who are blind or deafblind. Wen was born with limited vision due to congenital glaucoma. He is blind in his left eye and has limited vision (20/100) in his right eye with corrective lenses. As a child, he received services to assist with accommodations and life skills, but he did not perceive his visual impairment as a limitation until his college years.
Following a rigorous high school career at the highly-acclaimed Boston Latin School, Wen attended Bentley University to pursue studies in finance. He took part in two internships to gain work experience and ultimately graduated with a B.S. in Accounting and later a Master of Taxation. His second internship was with public policy firm Johnston Associates, which developed into full-time employment following graduation. He gained a depth of experience and knowledge working in a variety of healthcare industry positions, from tax-based strategies to insurance, before deciding to return to the non-profit sector for a change of pace.
In Wen's current position as accountant for Perkins Solutions, he runs financial statements and oversees collections, accounts payable, purchasing, and shipping. If it has to do with money, he takes part. He also analyzes the operations of the purchasing solutions group and sales to note any anomalies that need further attention. Throughout his accounting career, Wen has collected $3 million in accounts receivable, and he has successfully reduced overall accounts receivable by 64% for Perkins Solutions. He uses ZoomText software to magnify his computer screen, and he also uses a Ruby handheld digital magnifier for many job tasks. He utilizes local mass transit and Uber for daily transportation.
Wen enjoys helping others by volunteering as a tax preparer and as a local mentor for kids with disabilities. He is a homeowner and often spends his spare time managing home repair projects that he hires contractors to complete. He enjoys looking at things in terms of making the best move forward and lives by the motto, "do what you can, with what you have, where you are."