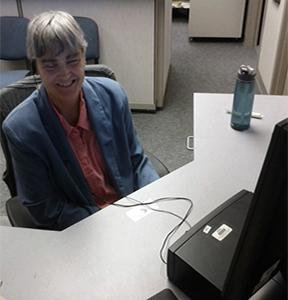 Vivian Conger has been working at Walla Walla Community College as the receptionist for the Technology Services Helpdesk since June 2004. At that time she was a student at the college earning an AA degree in Applied Sciences in Medical Administration. Vivian's vision loss is caused by retinopathy of prematurity and she had some usable vision until 1986-87.
She can see contrast between dark objects against a light background or vice versa. As a result she uses JAWS 14, a speech program for her computer, and also has a PowerBraille 40 refreshable braille display. As a student, she frequently worked on assignments in the computer lab. The staff member who oversaw the lab approached Vivian after observing how she worked and said she had the perfect job for her. Vivian was not even looking for a job at the time.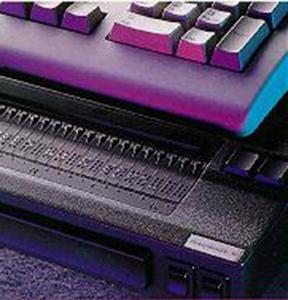 That is how Vivian became the receptionist, two years before she graduated. Her job has expanded over the past nine years, and now involves serving as a front line trouble shooter in technical services. She is the first point of contact for students, faculty, and college staff who report a technical problem or have a technical question. Vivian's favorite part of the job is the interaction with students. She likes helping them directly and putting them at ease with technology.
She remembers the tension she experienced as a student working with technology. If she cannot resolve the problem, she triages it to a technician immediately or decides if it can be added to the Technology Services Task list. Vivian also schedules and monitors other services provided by Technical Services such as the use of equipment and technicians for computer and video technology used by faculty and staff. She travels throughout the campus with her dog guide Barbee and strives to create a positive image of a capable person who is blind for everyone on campus.