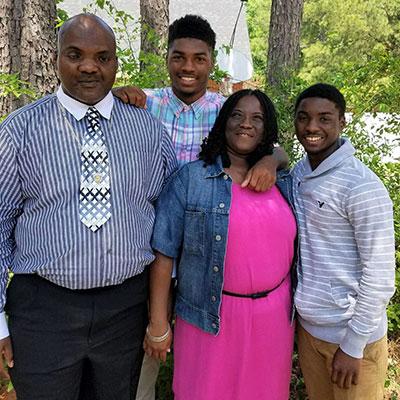 Tracey Jackson learned the importance of adapting to various situations and environments early in life, and he's applied the lesson of stepping outside his comfort zone and persevering in his roles as a mentor, father, husband, and CEO.
Tracey lost his vision at the age of nine when a motorcycle accident severed his optic nerve. While in the hospital, the local Teacher of Students with Visual Impairments (TVI) organization reached out to his family about the services that could benefit Tracey. With the organization's guidance and family support, he started learning Braille and rebuilding his life as a student with blindness.
After graduating high school with honors, Tracey received blindness skills training in Atlanta to learn independent living skills like cooking and cleaning, orientation and mobility, computers and assistive technologies to prepare for college. When he completed the course, he reached out to local colleges about their programs. At that time, each claimed they did not have the technology or staff to work with a student who was blind. However, shortly thereafter, Darton College in Albany, Georgia called Tracey back and accepted him as a student. He graduated in 1996 with an associate degree in Business Administration. After some time in the workforce, Tracey returned to school, completing a Bachelor of Science degree in Information Technology in 2005 from the University of Phoenix.
Finding accessible educational experiences was one of the many frustrating experiences that motivated Tracey to assist students with blindness or low vision find educational and work opportunities. As the CEO of Phoenix Elite Solutions LLC, he provides technology training and consultation for individuals, private entities, counties, and the state of Georgia to make the process of integration into the workforce easier. Tracey believes that if individuals take the training seriously, they will be prepared when an opportunity presents itself.
Tracey utilizes a white cane, JAWS, a Focus Braille Display, a Braille Sense U2, ZoomText Fusion, and IOS devices – just to name a few assistive technologies. He wants people with vision loss to recognize that a loss of sight does not equate to a loss of vision. Tracey says, "We don't lose vision, only sight!" This is what he lives by and passes on to each of his students.