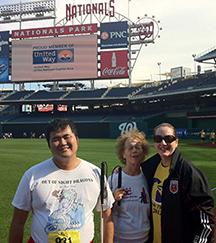 From the beginning, Sam Joehl's career was shaped by technology. While this influence wasn't always positive, he overcame early setbacks to forge a thriving career in digital accessibility.
Born blind, Sam first became fascinated by technology when he was in second grade. His dad brought home an early model Apple II computer and connected it to an Echo speech synthesizer and a specialized word processor designed for the blind. Sam was instantly drawn to the freedom and autonomy made possible by technology.
Sam attended DeVry University in Chicago, where he majored in computer information systems. His first full-time job out of college, however, left him frustrated. The company's software was not designed to be compatible with assistive technologies, leaving him struggling to achieve a level of productivity on par with his co-workers. As Sam began researching how to make this software more accessible, he grew increasingly interested in improving technology accessibility for all people with disabilities.
This interest in technology and the way it could both hold people back and open new doors led to a new career for Sam. He started a job at Level Access, where he now works as a principal digital accessibility consultant.
In his current role, Sam conducts many accessibility audits. This means he reviews websites, mobile apps, telecommunications, and hardware to make sure they comply with accessibility requirements. He also conducts functional testing to make sure technology can be used in the real world by users with disabilities. He has also served on the Federal Communications Commission's Disability Advisory Committee since 2014.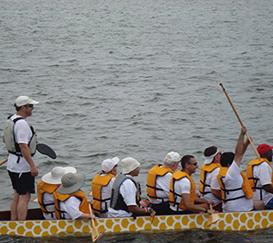 Due to the nature of his job, Sam is surrounded by assistive technology at work. His office strives to be an inclusive environment. The company labels items in braille and, when they moved locations, contracted with the Columbia Lighthouse for the Blind to provide orientation and mobility training for blind employees.
Day-to-day, Sam uses the JAWS for Windows screen-reading software alongside a refreshable braille display. The "game-changing" piece of assistive technology Sam uses often is his BrailleNote Touch, which is the world's first certified braille tablet that provides traditional braille notetaker functionality and braille access to third-party apps through the Google Play store.
Sam's hobbies build on skills that also benefit him in the workplace. He loves paddling on a blind dragon boating team called the Out of Sight Dragons. He finds that this sport hones his teamwork skills and pushes him to develop focus and discipline. He also enjoys attending grassroots meetups and camps for technology accessibility, where he gains helpful information he can use in his job.
Rapidly changing technology leaves Sam excited for the future. Since he started his career in technology, Sam has noticed a dramatic shift when it comes to accessibility. He finds that large technology companies are more aware of the need to ensure their technology is accessible, and he is delighted that mainstream devices, like smartphones, tablets, and televisions, can be purchased off-the-shelf with accessibility features already built in.
Sam encourages young people with visual impairments to advocate for their rights and needs. Throughout his college career, Sam had to fight for the accommodations he needed, but he never gave up or settled for second-best.
He points out that, traditionally, STEM (science, technology, engineering, and mathematics) fields have been less accessible for youth with disabilities. Sam encourages young people who are interested in STEM careers not to shy away from challenges. If a subject seems particularly difficult, it may be due to barriers that could be removed.
Networking is one important way to address such challenges. Sam notes that a young person might face challenges that someone else has already solved. He encourages young people not to be afraid to ask for help to find a new or better way of tackling a problem.
Sam's personal experiences with accessible technology give him insights and expertise that help him excel at his job. He approaches assistive technology as both a consumer and a consultant. This allows him to give detailed recommendations based on his expertise and his personal preferences as a consumer with disabilities.
According to Sam, "Technology can be a transformative and empowering solution to increase the independence of individuals with disabilities." He loves his job, where he works to break down technological barriers and create more opportunities for people with disabilities. As he points out, "Provided with the right tools, resources, and support, individuals with disabilities can be an invaluable part of the workforce and make meaningful contributions to society and the world around them."