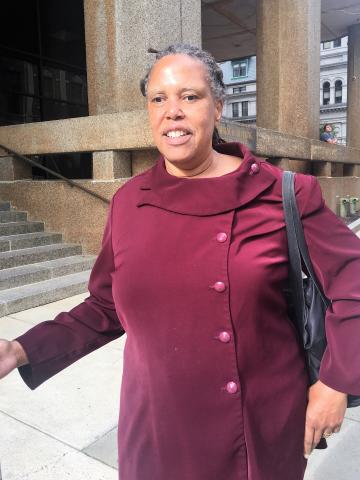 Rose Miller has worked for the Massachusetts Attorney General's Office (AGO) for over 23 years and is currently the Information Services Coordinator in the AGO's new Information Services Center. Before that, she worked with consumers for many years doing mediation and advocacy work in the Public Information and Assistance Center and, later, Consumer Advocacy and Response Division.
In her role as the Information Services Coordinator, Rose handles some of the AGO's most challenging calls. She helps callers connect with the appropriate division or outside resources to help resolve their issues. Rose also educates callers on consumer rights and the possible assistance that the AGO can provide. Additionally, she works with leadership and other divisions to identify trends of concerning behavior that her office hears about on the phones.
Rose is a wonderful resource, coach, and mentor for new hires in the Information Services Center. She brings a wealth of institutional knowledge and front line experience to her position. Rose is also a part of the AGO's Diversity and Inclusion Committee. Rose values her position because it provides free voluntary assistance to people who do not know how to address their consumer issues.
She has a Bachelor of Arts in Sociology and a Certificate in Mediation from the University of Massachusetts at Boston. Rose lost vision in one eye in 1986 and the other eye in 1987 due to optic neuritis. She is legally blind and cannot read print. She received independent living skills training from the Carroll Center for the Blind in Newton, Massachusetts, and from the Massachusetts Commission for the Blind Vocational Rehabilitation Services program, to prepare for employment. Rose uses JAWS, a speech output program for her computer, and uses various adapted technology.
Outside of work, Rose is very involved in her community and is on the Board of the Bay State Council of the Blind.
Last updated September 8, 2020