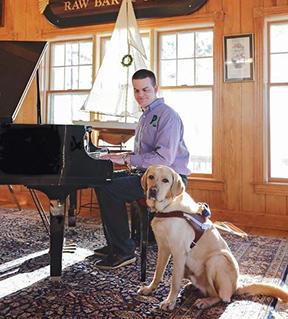 A passion for all things mechanical and musical led John Pastorius to the perfect career. As the owner of Pitch Perfect Piano, he tunes pianos for a wide range of clients, including music teachers, families, and churches.
John was born blind, due to optic nerve atrophy. Before starting school, John worked with a braille teacher to learn to read and write in braille. He also worked with an orientation and mobility instructor throughout his years in school. John spent his high school summers at the Colorado Center for the Blind, where he learned daily living and public transportation skills and completed internships with local employers.
As a child, John loved music and found that he was truly gifted in this area. His grandmother bought him his first keyboard when John was about 4, and he discovered he could play tunes from memory after only hearing them once or twice. John took up the French horn at age 10 and loved being in the school band.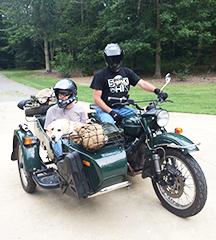 John majored in music performance on the French horn at Lynchburg College in Virginia. He originally thought he would pursue a career in rehabilitation for the blind. But, after completing an internship in the rehabilitation field, John realized he did not have the patience to be a teacher, and he started wondering what other career options were available. Eventually, John heard about a program that taught individuals who are blind how to tune pianos and open their own business. John was intrigued and spent time job-shadowing the piano tuner for the music department at his college.
After deciding that piano tuning would make an interesting and satisfying career, John moved to Washington to join the piano-tuning program. After two years spent learning the trade, he moved back to Northern Virginia to start his own piano-tuning business. As a small business owner, John uses a combination of new technologies and tried-and-true accommodations. He relies on Uber to get to and from tuning appointments, and he relishes the flexibility and reliability offered by ride-sharing apps. He reads braille and uses a guide dog (a yellow lab named Volvo) to get around. Voiceover on his iPhone and JAWS on his computer enable John to email with clients and use the internet.
In his spare time, John puts his mechanical expertise to use, repairing antique cars with his dad. They also enjoy taking motorcycle trips together, even venturing as far afield as a round-trip from Virginia to Wyoming.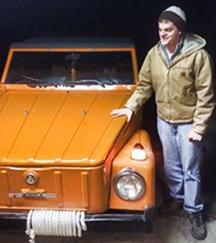 When he advises young people who are blind, John recommends participating in job-shadowing and internships whenever possible. Such experiences helped him narrow down his career choices and make the change from rehabilitation to piano tuning. John's willingness to try new things and learn firsthand about career fields that interested him helped him find a job he truly enjoys.
John also emphasizes the importance of not taking no for an answer. He learned this lesson from his mother, who refused to settle when John's childhood school district said no to accommodations requested for him. Her willingness to fight for John's needs set the foundation for him to build a thriving, independent career.
This tenacious attitude has helped John build a unique career for himself that suits his passions. As he works with a broad range of clients, John finds satisfaction in providing excellent service that wins him praise from experts in the piano-tuning field.