As someone experiencing vision loss early in his career, Erich Manser quickly gained an appreciation for creating and supporting technology that everyone can use.
His journey in accessibility work started as an Inside Sales Specialist for Hewlett Packard (HP) Workstations in 2004. While he knew for years that he would be losing vision due to his diagnosis of retinitis pigmentosa and cataracts, it was not until he began his career that he started experiencing more significant vision loss. As he noticed changes with his personal use of technology, he searched for solutions. After learning about a small team focused on accessibility at HP, he reached out and began volunteering to help this team. As a user with vision impairment, he was able to help the team procure products that employees and consumers could use. He also assisted with the development of accessible products.
This volunteer experience helped him realize the need for advancements in the area of accessibility. Over time, he felt that his most significant contribution would be in the accessibility space, and he pursued a full-time accessibility position with IBM. Professional highlights include demonstrating self-driving vehicles and working on artificial intelligence projects.
As of January 2020, Erich is a Digital Accessibility Consultant with Harvard University Information Technology. While the switch to higher education presents new challenges, his experience with advising and consulting staff translates nicely. He is very excited about this position and the unique challenges and opportunities it offers.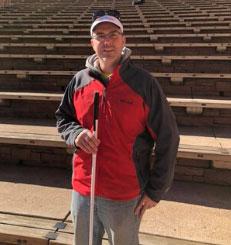 As technology evolves, he plans to continue utilizing the latest apps and devices in his personal and professional life. He currently uses magnification and inverted colors for accommodations in the workplace. Erich also keeps up with the latest apps, like BlindSquare and Aira.
In his free time, Erich is a competitive marathon runner and triathlete. He held the unofficial world record for non-visual competitors in the Ironman Triathlon for a few years! Erich enjoys the company of his wife and two daughters. He has a BA in Psychology from Northeastern University in Massachusetts.
He hopes that young individuals facing a vision impairment can recognize that they do not have to compromise any of their interests because of vision loss or blindness. He continues, "Whatever you're driven by or interested in, you can rest assured there's someone out there who is accomplishing that very thing despite vision loss!"
Last updated March 2020