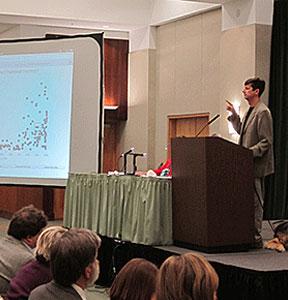 Ed Summers is a blind software engineer and an accessibility specialist. Summers leads a team at SAS, an analytics software company based in North Carolina that works to make software more accessible to people with disabilities. His personal mission is to enable people with disabilities to realize their full potential in the classroom and in the 21st century knowledge economy. He fulfills that mission as a leader in the software industry and disability-related not-for-profit organizations.
Summers has a long history at SAS and has been the Manager of Accessibility and Applied Assistive Technology since October 2010. He has a B.S. in Computer Science from the University of North Carolina and 20 years of professional experience as a software developer and a development manager. Summers lost his vision at age 30 as a result of retinitis pigmentosa. He uses JAWS, a speech output program with his computer, an iPad, and an iPhone. Ed gets around SAS corporate headquarters and its enormous campus with his dog guide Willie who has his own blog on the SAS website.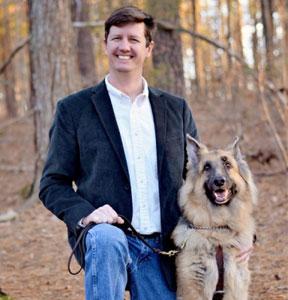 Ed and his team create systems for individuals with vision loss to understand and manage large data sets, essentially "democratizing data," and also prioritize education. Ed has been transforming the way students who are visually impaired learn. Ed and a colleague have traveled the country training 300 teachers of the visually impaired (TVIs) this year to use the iPad's built-in accessibility features to revolutionize learning for their students with vision loss. They have learned how it can be made accessible by turning on the VoiceOver program, and how to use VoiceOver in the classroom in conjunction with a Braille display or with low-vision aids. The TVIs saw how easily Braille readers can use a Braille display to read digital books and classroom handouts. Students with low vision can use the iPad to see a Smartboard at the front of the room. From a social perspective, students feel "normal" among their peers using mainstream equipment.
SAS is the market leader in business analytics software and services that is used at over 65,000 sites in over 100 countries. Through the work of their Accessibility Team, they help SAS customers fulfill their disability-related legal obligations.