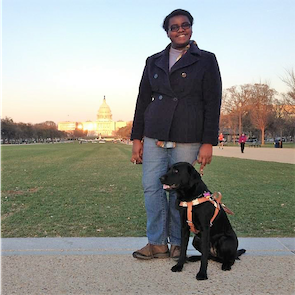 Denna Lambert was born with congenital cataracts. Due to her residual vision, she relied on large print and audiobooks in the classroom. After high school graduation, Denna attended the Louisiana Center for the Blind for additional training in braille, cane travel, and independent living.
She went to the University of Arkansas Fayetteville for her undergraduate degree. Denna started as an electrical engineering major but struggled with other's perception and skepticism of her as a blind person. She decided to change her degree to business and minor in math.
At a conference, she met with recruiters from NASA who were looking for new employees with an aptitude in business, engineering, and science. While she felt there was discrimination from recruiters of other industries, NASA had a hiring initiative for people with disabilities. Given her educational background and aptitude for learning new skills, Denna was a great match!
It was a significant change to move from Arkansas to Washington, D.C., for a position as a contract specialist with NASA's Goddard Space Flight Center. Her various roles since then include recruiting, managing a disability program, and now project management. As a project manager, she manages staff, oversees budgets, and reviews contracts for large projects. Denna is especially proud of her work renovating the NASA Goddard Library, which won a federal award after her renovation.
In DC, she attended George Washington University for a master's in public administration. Her vision still fluctuates, so she utilizes a seeing-eye dog, screen magnification, braille, and JAWS as needed.
Outside of work, Denna has traveled internationally and led a Girl Scout troop. She recently adopted her son, Kaleb, who is now one year old. They love going on walks together.
Denna hopes that individuals with blindness will not allow other people's doubts or fears to become their own. She recommends that individuals should ask for specific ways to improve or obtain more training when they experience rejection. Denna adds that this demonstration of resiliency and willingness to learn can lead to a constructive conversation that aids in overcoming disappointment – and often, misconceptions about blindness!
Last Updated June 2020