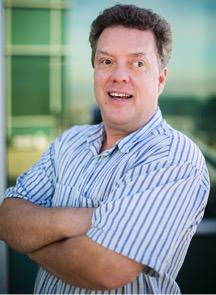 Darren Burton uses two PC computers, one Mac computer, two iPhones, one iPod, two iPads, two Android phones, and two Android tablets on a daily basis. As an accessibility specialist at Yahoo's headquarters in Sunnyvale, CA, he needs this impressive array of technology to do his job.
As a young man, Darren suddenly lost his vision when his optic nerve was severed during surgery to remove a tumor on his pituitary gland. The experience of going from 20/20 vision to no vision at all in an instant was deeply unsettling for Darren. He moved back home to recuperate and get back on his feet.
After earning a degree in business management from West Virginia University, Darren embarked on a winding career path that led him from law school to the world of accessible technology. Eventually, Darren helped found AFB Tech, where he became director and spent 12 years consulting with major technology companies on product accessibility for users with blindness and low vision.
In 2014, Darren left AFB Tech to take his current position at Yahoo. As an accessibility specialist, Darren works closely with engineers to conduct product evaluations of Yahoo's mobile and web applications to determine their accessibility. He also leads user studies that bring together people of all ages with different types of disabilities to test Yahoo products and get feedback. On the job, Darren employs a range of accessibility apps, including VoiceOver on his Apple devices, TalkBack for his Android devices, and JAWS on his PCs.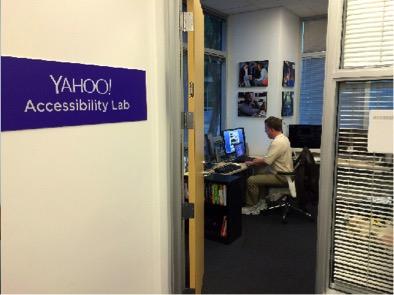 Darren has three pieces of advice for young people with blindness and low vision who are interested in pursuing a career in technology:
Keep up to date on all the latest technology developments. Use the latest tech in your daily life, become an expert in it, and love it.
Refuse to listen to naysayers. Every time someone says a blind individual can't do something, someone will prove them wrong.
Get out in the community. Get to know people and work on building a network. The sky is the limit!
Darren says he draws his greatest career satisfaction from working with brilliant engineers, including the individuals who developed VoiceOver, Closed Captioning, and descriptive videos. He loves learning from these veterans of accessible technology and working at a company that is passionate about accessibility. In his spare time, Darren is looking forward to exploring the mountains of California on his skis. He also enjoys reading and beating his sighted friends at poker.