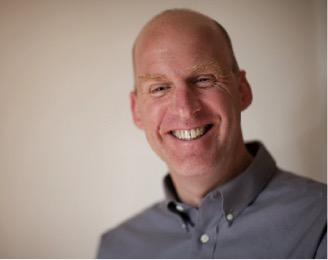 Rather than slowing him down, vision loss gives Chris Downey a competitive advantage. An accomplished architect who suddenly lost his sight seven years ago, Chris has channeled his grit and creativity to carve out a unique niche for himself in the field of architecture.
Ever since he was a child, Chris felt drawn to architecture and the creativity and problem-solving the job required. After receiving a master's degree in architecture at UC Berkeley, he embarked on his dream career, designing everything from theaters to libraries.
Life changed drastically, however, in 2008. Surgery to remove a brain tumor was supposed to be a routine affair, and at first it seemed all had gone as planned. But in the days following surgery, Chris' eyesight began to fade, and within the week it was totally gone.
Chris remembers a social worker visiting him in his hospital room to talk about planning a career change now that he was blind. But Chris refused to accept the premise that he could no longer do his job. Within a month, he was back at work.
Although he had never heard of a blind architect before, he was determined to figure out how he could continue doing the job he loved. He discovered that a large format embossing printer allowed him to easily print out drawings in tactile form. He also uses wax sticks to draw and mark up others' work. A smartphone allows him to snap pictures of drawings to send to clients.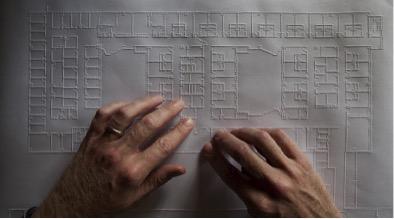 In the years since his vision loss, Chris has gone on to found his own consulting architecture firm, Architecture for the Blind. He now specializes in creating buildings that are accessible to individuals with disabilities, with a particular focus on accommodating the visually impaired. Projects include everything from independent living centers to public transit. Chris finds that his unique insights are in high demand, as virtually no architects have personal experience with vision loss.
A career highlight was working as lead architect and designer for the San Francisco Independent Living Resource Center. All of the clients and most of the employees who use the building have a disability, so universally accessible design was key. This was Chris' first time working as the solo lead on a project of this scale, and he was able to lead this fast-paced project to completion on-budget and on-time.
Chris believes his disability is a strength that gives him a competitive advantage. He also believes the field of architecture benefits from having individuals with disabilities as a part of it, due to the unique perspective they bring. Chris was able to realize that his vision loss, rather than ending his career, instead gave him a unique opportunity. But it was up to him to discover and seize that opportunity.
In addition to his consulting architecture work, Chris also teaches a class on the Americans with Disabilities Act and universal design at UC Berkeley, and he serves as a gubernatorial appointment on the California Commission on Disability Access. In his spare time, he enjoys spending time with his wife and son and being a member of a competitive rowing team.
In January 2019, Chris was featured on a 60 Minutes story, Architect Goes Blind, Says He's Actually Gotten Better at his Job. Watch and read about his "different kind of vision."