Toni Fauquher is employed by Michaels Arts & Crafts in Carmel-Westfield, Indiana where she does floral design with silk flowers. Toni started to lose her vision in her late 30's as a result of Pseudoxanthoma Elasticum (PXE) which is a rare connective tissue disease which can affect different parts of the body, but with Toni it began with her eyes.
As a result, Toni has limited peripheral vision. She became a client of the Indiana Division of Disability and Rehabilitative Services (DDRS), Blind and Visually Impaired Services. Through their sponsorship, she enrolled in the Alexandria School of Scientific Therapeutics in Alexandria, Indiana to become a licensed Massage Therapist. She was supplied with assistive technology including a hand-held scanner, a hand-held CCTV which magnifies images onto a screen, and hand-held magnifiers up to a 10x magnifier.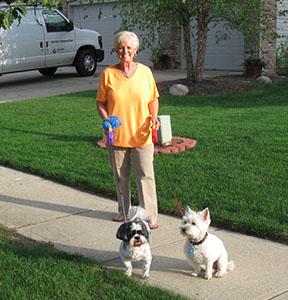 Toni enjoyed working as a massage therapist for 5 and a half years, at which point the connective tissue disease made it difficult for her to effectively use her hands. She also received assistance from an employment counselor at Bosma Enterprises in Indianapolis but found her job independently. Having had floral design experience working in a flower, shop she applied to Michaels explaining that she was visually impaired, but had experience. She was hired and has been doing what she loves for 12 years.
She is able to express her creativity through Floral Design. She creates displays, wreathes, and custom orders for customers who have come to depend on her for her designs. Customers also approach the design desk for assistance in finding items to create their own projects and Toni also serves as a sales associate in assisting customers. She uses her 10x magnifier to check prices. She also takes calls from people checking on the availability of stock and uses her hand-held CCTV to check their code numbers. In her spare time, Toni enjoys listening to audio books, walking her dogs, and experimenting with interior design which she often does for friends and other referrals.