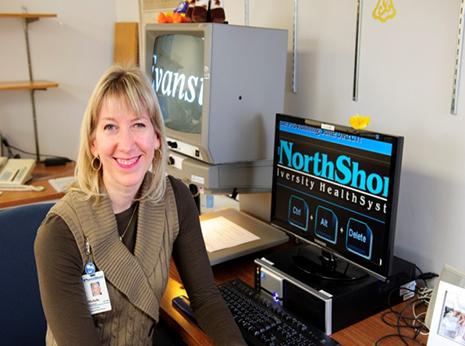 Michelle Koedoot is a social worker at NorthShore University HealthSystem in Evanston, IL where she has worked for nearly 15 years. She splits her work time between the Cardiac Care Unit and a surgical floor with orthopedic and neurology patients. She carries a caseload of approximately 25-30 patients. Michelle is legally blind as a result of optic nerve atrophy. She received a B.A. in Psychology from the University of California at Riverview and an MSW from Loyola University in Chicago.
Michelle recalls that before 2003, when NorthShore implemented an electronic medical record system, she had to read paper files under a closed circuit television which magnifies images onto a monitor. With the switch to the electronic record case management system, EPIC, the Illinois Department of Rehabilitation came and assessed what assistive technology options could help her perform her job most effectively. Magic, a magnification software program for her computer, was installed and as Michelle's vision decreased, JAWS, a speech program for her computer was installed which she now uses. In addition to technology, Michelle improvises methods to function in the hospital environment. For example, since she cannot read patient room numbers, she counts doorways. The hospital uses a paging system called Vocera. Since Michelle cannot read the print message it produces, her Vocera is modified to go to her voicemail so that she can call and get the message. Much of Michelle's work involves discharge planning from the hospital and approximately 85% of the work involves family members. The discharge planning she does is primarily related to short-term nursing home placement for rehabilitation. In addition, she provides resources to patients and their family members for aftercare services in the home. She also provides emotional support to patients and their families during their stay, and helps them prepare advance directives and end of life plans. What Michelle values about her work at NorthShore is the tremendous supportive work environment, the organization's responsiveness to her need for assistive technology, and the service she provides to her patients and their families.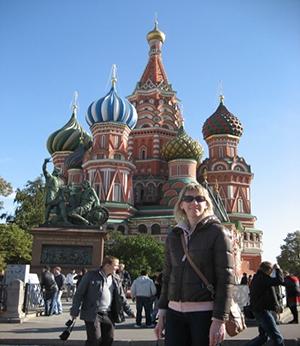 Outside of work Michelle enjoys running, including a 5-K, international travel, and serving as a deacon at her church.
(Photograph by Jon Hillenbrand, NorthShore University HealthSystem)